WETLANDS
A 50' x 50' area with a large pond, marsh, grassy areas and rock banks enclosed within 8' of netting.
The animals that live in the wetlands are:
Frasier, a South African crowned crane
the nene flock
Barcode, the barheaded goose
occassional visits by endangered Hawaiian ducks (Kaloa) and a black crowned night heron (Ugly)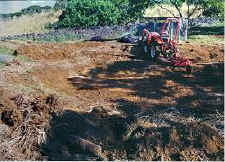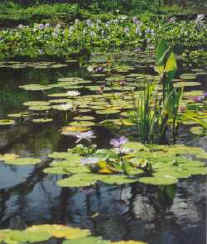 Located behind the netted area are the individual birds' night enclosures. This is also where the birds can be isolated for care or treatment.
This project has required extensive ground work with both tractor and hand picks. We have tried to take advantage of natural contours, but have had to negotiate lava ridges and boulders.
The lilies and water plants were donated by Klaus Conventz of Baumeister Consulting in Kona (808) 329-0898
This area probably requires the most time and effort to keep trimmed and attractive of all the areas at the Sanctuary. It is also one of the DIRTIEST jobs!