Lavender Waxbill Finch
(estrilda caerulescens)
(also known as Lavender Waxbill / Lavender Firefinch / Red-tailed Waxbill)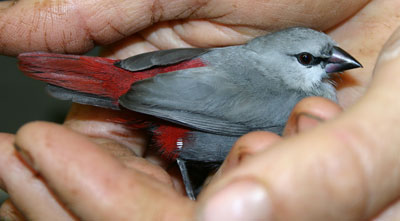 PHYSICAL CHARACTERISTICS
typical adult size is three and one half to four inches
(3-1/2" - 4" )

DISTRIBUTION and HABITAT
Open and semi-arid grassland of Tropical West Africa.

BEHAVIOR
Very active though quiet. Tend to live in small flocks of family groups of up to 12 birds.
DIET
Seed and small insects
REPRODUCTION and GROWTH
Both parents incubate 4-6 eggs which hatch after 13 days. Young fledge at about 23 days and may stay with parents well into adulthood.
OUR RESIDENT BIRDS
The bird pictured here was brought to the Sanctuary November 14, 2007. He appeared to have a head injury from flying into a home's window.