To Contact Us
We are a private sanctuary. Due to our caring for wildlife, the Sanctuary has no regular, open hours for the public. However, private educational tours can be arranged. Please follow this link for details and to schedule a visit.

PLEASE, FOR THE SAFETY AND COMFORT OF THE ANIMALS
WE DO NOT EVER ALLOW UNSCHEDULED, "DROP-IN" VISITORS
If you need to reach us via phone, please remember that Hawaii is EARLIER than the US Mainland! We are 2 hours earlier than the West Coast (PST) during the winter and 3 hours earlier in the summer (Hawaii has no daylight savings time).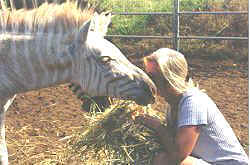 Telephone
808-331-8778 in HAWAII.
Please be considerate of the time difference!
FAX (toll-free)
866-365-5097
Postal address
Ann and Norm Goody
Three Ring Ranch, Inc.
75-809 Keaolani Dr.
KAILUA KONA , HI 96740-8815
Email