Hawaii's only fully-accredited, USDA licensed, exotic animal sanctuary
Founded in 1998, the Three Ring Ranch is a private,

non-profit, exotic animal sanctuary located on five acres above Kona. It is home to zebras, nene, hawks, owls, flamingos and reptiles, as well as many other rare, endangered and exotic creatures.

Licensed by the USDA, we hold State and Federal
wildlife permits for possession of raptors and
endangered species.


Our mission is to positively impact the environment while educating Hawaii's children about their place in the natural world.
Our goal is to assist in the development of an environmentally responsible generation of youth. We teach about the fragile ecosystem we impact on a daily basis, while giving visitors a rare chance to see the animals up close.

Our resident animals live out their natural lives at the facility.


Due to our caring for our exotic residents the Sanctuary has no regular, open hours for the public.
Private educational tours can be arranged by calling or the Sanctuary


WATCH: a short video of a release of a Hawaiian hoary bat
bat release video

READ: Big Island Traveler, "Home on the Range"
Spring 2016.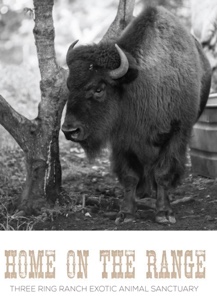 LISTEN: to Ann's interview on KWXX's Island Conversations with host Sherry Bracken
August 2020.
WATCH: a video all about us, by Big Island Television, Celebrating our 25th Anniversay and our receiving the GFAS 2022 Outstanding Sanctuary Award. (Jan 2023)
WE NEED YOUR HELP
TO SUPPORT THE SANCTUARY
100% of your tax-deductible donation goes to supporting the animals and our educational programs


The Three Ring Ranch
is a 501(c)3 non-profit organization
TIN 99-0344980